Effective digital transformation takes place first in people, then in technology
Two important parts of the digital transformation process, and quite possibly the most important, are communication activities and having the right team. In other words, communication and the team will eventually either make or break the digital transformation or implementation of an individual solution. We talked to Better by Marand Business Development Director Anže Droljc, who has excellent insights into the digital transformation of the English healthcare system, and into the introduction of an electronic prescribing and medication management system in particular. In addition, he also played a key role in the digital transformation of University Children's Hospital Ljubljana.
I read a great quote from Sam Shah, Director of Digital Development at NHS, which says that the most significant barriers standing in the way of innovating the (UK) healthcare system are not in the technology, but within the culture and in the willingness to accept the change as something good. So, effective digital transformation takes place first in people, then in technology?
Indeed. I would also say that implementing any kind of change is about finding or identifying the key jobs to be done, and then finding the right solutions and people to solve those problems. Quite often you can find solutions for such problems outside of IT. This means that implementing various IT solutions just because you have decided to go on a digital transformation journey is not the right approach, and will not deliver the desired outcomes.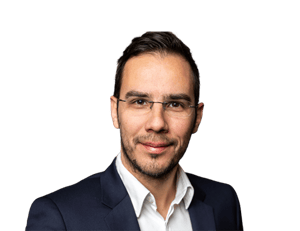 IT solutions result in a positive effect on healthcare when those solutions have been devised by a development team that keeps patient benefits in mind, but also considers the fact that the IT solutions to be implemented should assist the end-users (in this case, medical teams) in performing their tasks better and with less effort. At the same time, each planned introduction of changes and digital transformations has to be communicated in detail with all key stakeholders, so that everybody clearly understands the purpose and expected advantages of the change.
You played an active part on the vendor's side of the digital transformation of University Children's Hospital Ljubljana in Slovenia. How did you see the communication portion of the transformation there? A collaboration of different teams? Internal or external communication?
I think that the key to the successful digital transformation of University Children's Hospital Ljubljana was communication. In the eight years which it took to transform the whole hospital from its entirely paper-based system to a paperless one with an HIMSS EMRAM Stage 6 certificate, we had more than a thousand meetings with the people we referred to as "power users" at the clinic. They were involved in the day-to-day use of the system, but also in terms of the specifications for what to do next. This helped guide us in creating the development roadmap and in identifying the important jobs to be done.
At the same time, the 500 regular meetings we had with hospital management proved to be essential, as this enabled us to have good contact with all the department heads. Such support was crucial when it came to implementing the changes that were proposed by the team, and they also helped us to communicate these changes to everyone else. Thus, the communication was transparent: we always let everyone know why we were doing what we were doing, and when we were doing it. We were also very open to any feedback.
In our Better webinar 'How to motivate the team during an ePMA Implementation', you moderated the discussion with David Chalkley, deputy CCIO and Digital Clinical Safety Lead, at Musgrove Park Hospital in Taunton, where the ePMA implementation seems to be going exceptionally well, and the "go-live" is going to happen by the end of the year. In an interview he said that when implementing an ePMA system, you need to invest in a good team and establish as broad an ownership and engagement as possible.
Based on what I have seen in Taunton, I must say that I am impressed with how they are approaching all of their digital transformation projects, one of which is the rollout of Better Meds – our closed loop ePMA solution. They really understand the importance of good and transparent communication.
During the implementation process, they have always included not only an extensive team of medical experts – doctors, nurses, and clinical pharmacists – but also the management, thereby keeping everyone up to date. They also conduct regular "open house" days for their team, so that everyone knows what stage the project is at, why they are doing it, what it is they are doing, and how it will affect their day-to-day life or work.
Something that is perhaps even more interesting is the fact that at the same time they held their "open house" days, they also showcased the project and the transformation to patients, and showed them how things would change for them. Finally, they share everything that they are doing not only within the trust and to their patients, but also by writing documents – blueprints as they call them – which they share with the GDE (Global Digital Exemplar) programme, so that every trust within the NHS can learn from them.


How important was our role as a vendor in Taunton?
Ever since we started talking to them, we understood that they were different. This was not just because they are a GDE, but also because they had a very different energy and enthusiasm with regard to the digital transformation. During the selection process, they emphasised their desire to work with a vendor that would help them with their digital journey. They wanted the right partner for their ePMA journey, and I believe this suited our team well, because although we have a state-of-the-art product, we understand that the product itself contributes to only about 30 per cent of the overall success of the project, with the rest being made up of implementation and communication.
We have been developing our implementation methodology and nurturing our relationships with our customers and partners so that we can work side-by-side with them, and make sure they are successful in their digital transformation journey. We tackle daily challenges and problems together, and share our experiences and lessons learned in the process.
What about the role of the partner in this process?
It is essential that we have a reliable partner for implementation. At Taunton, we are working with CGI, who is very proficient in our product, but also in rollout methodology and project management. They also have excellent technical skills.
In general, and this is not only with respect to the Taunton Better Meds implementation, I could say that implementation is only successful if all three parties – the trust as the customer, the partner for rollout and implementation, and our company as the vendor – are on the same side. We have an excellent relationship with an excellent communication set-up, meaning that we can discuss each challenge and resolve it in the way that is best for the customer, and especially for patient outcomes.


Register for a recording of the webinar 'How to motivate the team during an ePMA Implementation' with David Chalkley, Deputy CCIO & Digital Clinical Safety Lead at Somerset NHS Foundation Trust and Anže Droljc, Business Development Director at Better by Marand.
Read also: