Europe against cancer: recognising the importance of innovation in healthcare
On 21 September, 2020, the Slovenian Business and Research Association (SBRA) hosted an online symposium together with the Ministry of Health of the Republic of Slovenia and the European Commission titled Europe against cancer: recognizing the importance of innovation in healthcare. Experts of various backgrounds took part: doctors, representatives of governing institutions, patient association representatives, and digital technology specialists. Our CEO Tomaž Gornik was among the speakers as well.
Cancer is a major public health issue worldwide – it is the second most common cause of death in the EU, and in Europe there are an estimated 3.5 million new cases every year. For that reason, the EU has invested nearly 1.5 billion EUR in international collaborative research, frontier research, mobility programmes, public-private partnerships, and the coordination of national cancer research efforts during the past seven years. Over half of this budget – 770 million EUR – is being used on collaborative research projects, finding new ways to fight cancer, and to help patients.
The COVID-19 pandemic has caused delays in screening and diagnoses across Europe, and the main event topics were focused on how innovation can overcome cancer-related challenges, with an emphasis on the current pandemic. Following is a brief summary of the symposium.
To improve the progress and development of cancer screening, diagnosis, and treatment, there needs to be more collaboration between governing and regulatory healthcare bodies, as well as various other stakeholders in healthcare, in terms both regulation, and innovation. Digitalisation and innovation in healthcare, and assistance to medical teams at all levels of cancer management are the key tools for a robust public healthcare system that needs to mitigate challenges such as the lack of sufficient human resources, an increase in chronic diseases (including cancer), our ageing population, and unexpected crises, such as pandemics.
Taking part in the Innovation & research in healthcare excellence panel, Tomaž Gornik spoke about how innovative digital health solutions can improve cancer management throughout the patient journey. He underpinned his presentation with Better's case studies in the cancer therapeutic area.
Innovative digital solutions can improve cancer management in all major stages:
Prevention and screening: digital support of national screening programmes such as ZORA and DORA in Slovenia for early discovery of new patients, and for speeding up the diagnosis process.
Treatment: clinical applications tailored to medical teams' needs, enabling them to provide better care.
Treatment outcome monitoring: clinical registries that track disease-related data.
Research: data management for research purposes, which can be used in screening programmes as well.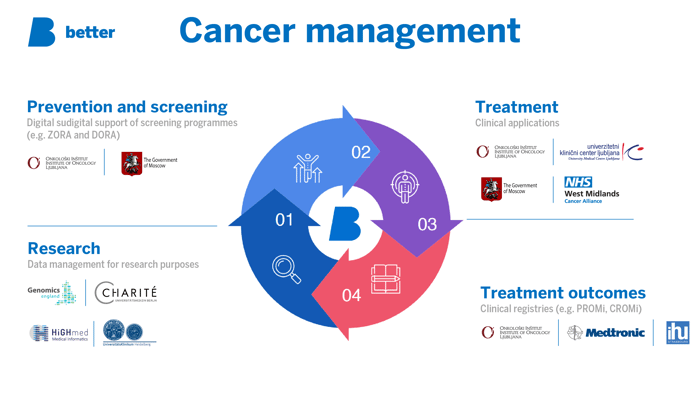 The speakers also highlighted cancer prevention and early diagnosis of all cancers. In general, healthier lifestyles and an increase in quality of life certainly come first in the fight against cancer. Finally, one of the core messages of the event was the need to increase investments in cancer research.