A CIO's journey towards a paperless hospital starts with developing an IDCR
We recently hosted a webinar with Andy Blofield, the CIO at University Hospitals Plymouth NHS Trust, responsible for both the delivery of operational IM&T services and an ambitious programme of digitisation. Mr. Blofield shared his perspective on setting up a single Integrated Digital Care Record. He believes an IDCR is a necessary step in the journey towards the stage 7 of the Electronic Medical Record Adoption Model – towards a fully digitalised, paperless hospital.
Plymouth Hospitals is a large NHS Trust that currently has 190 different departmental solutions, the majority of which are standalone applications with proprietary data repositories. Blofield jokingly said that the level of complexity associated with legacy applications 'scares' him.
Since they always had an open standards mindset at Plymouth Hospitals, the strategic fit of the best-of-breed interface type approach they've been using in the past came under question. Blofield realised that doing away with bespoke systems and building from a single database – a single IDCR – is the only way to go.
Developing IDCR is the end game - but how to get there?
One approach is to purchase a ready-made 'big box' IDCR solution. Blofield noted that 'buying your way in' has its benefits, such as getting a proven deployment model and a consistent user interface.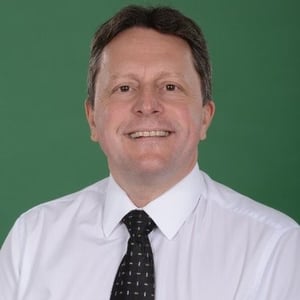 This approach however comes with substantial downsides, e.g. vendor lock-in and a data migration nightmare. More importantly, a big box solution is a very expensive investment, one that Plymouth Hospitals simply could not afford.
It was fairly easy for Andy Blofield to opt for an open standards approach instead, an approach which allows incremental investments. As the CIO at a public sector organisation, Blofield knows very well how difficult investment cases are to make. 'The more incremental you can make them, the more chance you've got at being successful,' he advised. With the open standards approach, Plymouth Hospitals doesn't have to set out everything at once, thus they can make good use of national funding which tends to come in 'small chunks'.
Going the open standards way also fits with the strategic intentions of this NHS Trust. It secures vendor neutrality and requires no data migration. 'We'll have no vendor lock-in at all', said Blofield. 'We'll have complete neutrality at all levels in the stack, which is a big thing for us. You should be able to swap out any form of technology or any individual supplier, and continue to use the data – because it's on a single data repository.'
Implementing the first clinical application based on the open standards approach
For Plymouth Hospitals, the first step towards building an IDCR was integrating OPENeP; a comprehensive closed loop medication management system by Marand, into their existing infrastructure. This electronic prescribing and medication administration solution is built on openEHR – a vendor neutral, open standard data repository. 'It's the first of our many applications written in an open source', Blofield hopes.
OPENeP accesses the openEHR repository through Marand's Think!EHR platform™ and is delivered to any device through the SeeEHR interface. In the webinar, Blofield demonstrated how seamless the integration between SeeEHR and OPENeP is.
'This is a true integration at the software level, this is not interfacing', he asserted. 'Even I can't see the joints –and I know where they are. There is constant passing back and forth between the two solutions, and it works fantastically! To the clinician, this is one solution.'
Taking next steps - toward a digital health ecosystem
For Plymouth Hospitals, the key thing now is to build more applications or modules in the same application stack. With OPENeP they've successfully implemented a solution for medication management. Now, the focus will turn to delivering the same solution for order communications and electronic observations.
Blofield closed his presentation by emphasising the importance of re-invigorating the marketplace, if we are to match competition of big box providers. The long-term development of a vendor-neutral electronic health ecosystem requires
investing locally
engaging local SME's,
forging partnerships with universities
working with other national and global developers.
'openEHR is worldwide; there are lots of opportunities for international collaboration in achieving that one vision of total data neutrality across all levels of the stack. The reason we can do that is because it is all based on an open standard, single Integrated Digital Care Record.'
We want to add that hearing from those with a first-hand experience with using openEHR is just as important. Following the journey of a CIO that is leading a 'first of type' implementation for the NHS is a valuable learning opportunity, so we thank Mr. Blofield for taking the time to present his perspective to our large audience of listeners.
We couldn't cover everything in this summary, but you can view the presentation or watch a recording of the webinar.
Register for a free recording of the webinar 'Plymouth's Integrated digital care record (IDCR): a foundation for an open platform architecture' with Andy Blofield.